WVFAM

West Virginia Foster Advocacy Movement WVFAM is a statewide group of current and former foster youth, ages 16 and up, working together to improve the child welfare system. WVFAM is youth driven and supported by the MODIFY with CED program. Who better to identify concerns and areas that need improvement within the system than the youth that have experienced it firsthand?
Areas of Focus
Sibling separation
Youth across the state overwhelmingly identified this as a top issue and many aspects that accompany it. Being separated from parents and guardians is traumatic enough without being separated from your siblings too, yet sibling separation is not uncommon in the foster care system. WVFAM members feel that every effort should be made to place foster youth in foster placements with their siblings. When this isn't possible, at the very least, they felt that foster youth should be allowed to maintain regular, frequent contact with their siblings.
Pet Therapies NOT Drugs (using pet and other therapies instead of pharmaceutical therapies)
Youth feel that there are not enough alternatives to traditional pharmaceutical therapies. While in the foster care system, foster youth often receive mental health services that include the prescription of psychotropic medications. WVFAM members feel that foster youth should be given the opportunity to participate in alternative forms of therapy, such as pet therapy or horse therapy, before being prescribed psychotropic medications. They feel this approach would result in more positive treatment results.
More and better information for foster parents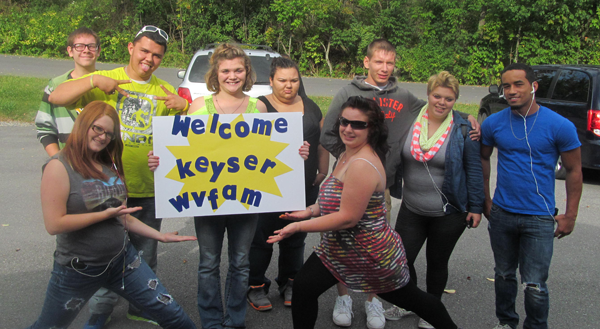 Adjustments to foster care placements can be difficult for both foster parents and foster youth, especially considering that both parties often have very little information about each other when placements are made. WVFAM members feel that foster youth and parents should receive as much information as possible about each other, prior to placements being made. This will result in both the youth and the foster parent making more informed decisions about compatibility of placements and fewer disruptions. Youth also felt that foster parents need more information about youth development and behaviors to avoid disruptions.
Keeping foster youth informed
The foster care system can be difficult to navigate, especially for foster youth who often struggle what is happening with their case. WVFAM members feel that more effort should be made to get their input and let them know exactly what is happening and why. Youth want to fully comprehend and be made aware of the decisions made affecting their lives. They feel that this would result in more positive outcomes for themselves.
Additional issues
Youth identified a whole range of issues and concerns to work on but voted on the top four above. However, youth will provide input on issues as the need and opportunity arises.
For more information or to get involved, call us at 1-866-720-3605